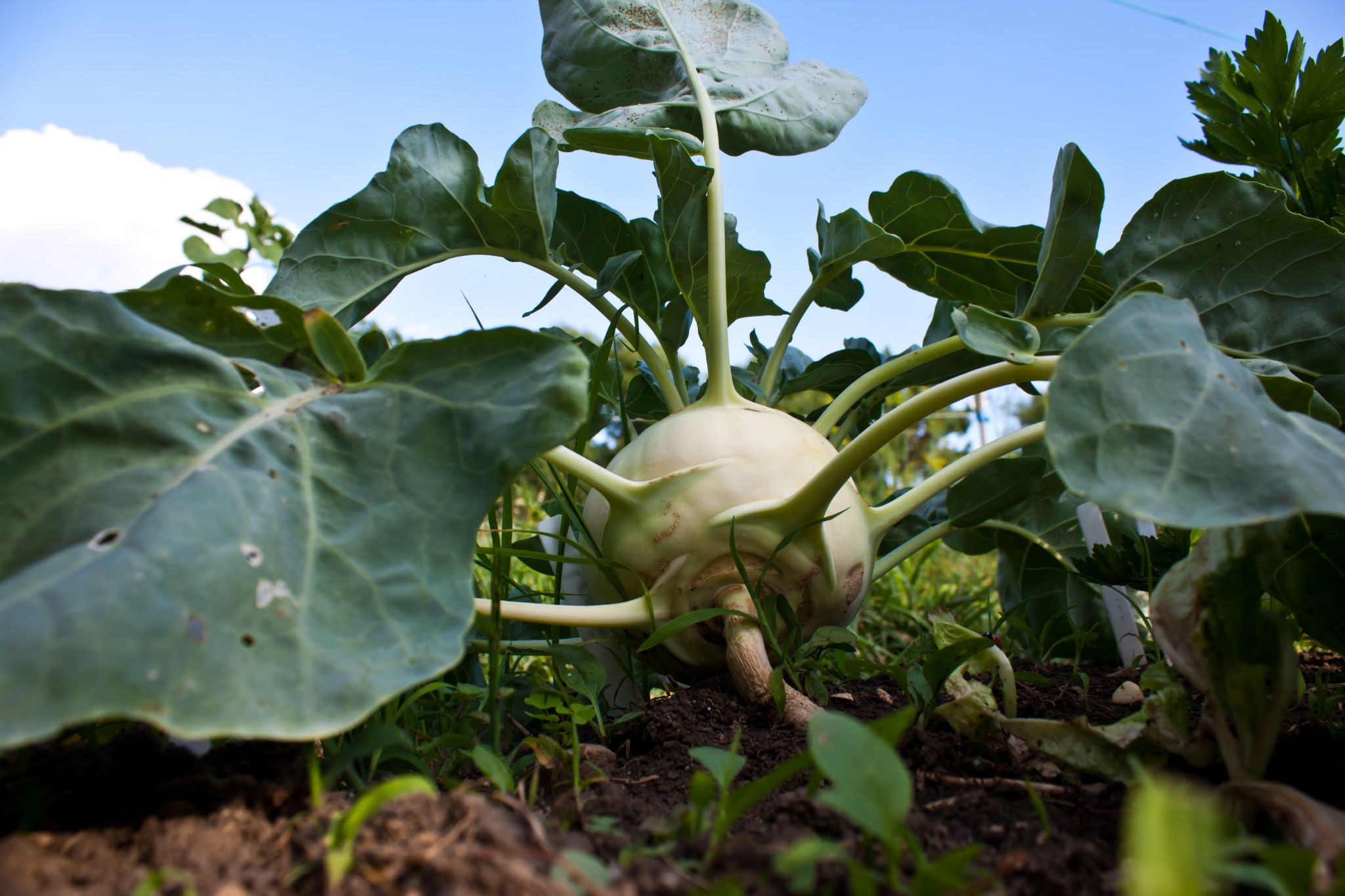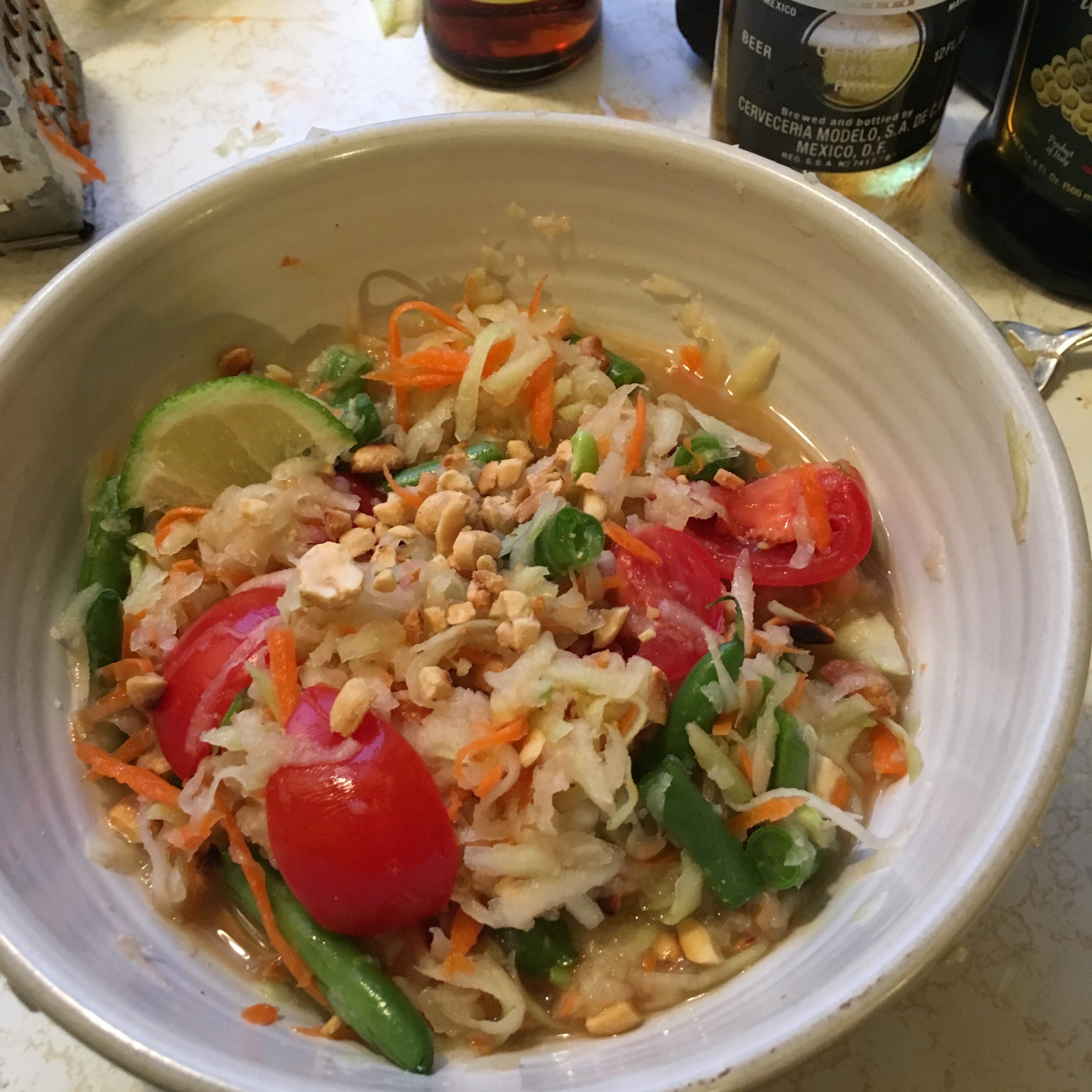 Kohlrabi som tam
Ode to Kohlrabi
Kohlrabi is an acquired taste. It's bland, with a mild hint of mustard-like fire, and is surrounded by a tough, thick peel. "It tastes like the part of broccoli you throw away," Sarah Aswell wrote for McSweeney's in a piece called Your First CSA: A Month-By-Month Guide to Enjoying Your Farm Share.
Comparing kohlrabi to broccoli stalk is taxonomically sound, as kohlrabi is the swollen stem of a plant in the same family as broccoli. Its name means "cabbage turnip," in German, and both cabbage and turnip are in the brassica family as well. Kohlrabi was bred over many generations to have rounder and larger stems, which enabled perhaps the one edge that kohlrabi has: it's ready early in the season; no need to wait for flowers, fruit or seeds to develop.
"We grow it because it does well here and it adds diversity to the weekly shares in late spring," says Missoula CSA farmer Josh Slotnick. He admits that few of his customers fall in love with the scaly green orb at first sight, but compares it to kiwi, which nobody cared about when it was called Chinese gooseberry. "Kohlrabi needs a rebranding, better marketing, and a better name," he said.
His colleague Luci Brieger, a farmer in nearby Victor, has a recipe for kohlrabi schnitzel that sells itself. Breaded and fried until golden, it's a dish that people clamber for in the old country.  She learned it from a German customer.  "It's like chicken-fried steak," says Brieger, who grows the giant Cossack storage variety which can reach ten pounds. She and her family feast on these fried slabs of breaded goodness all winter.
Meanwhile, back in Missoula, at my local Thai restaurant Sa Wad Dee ran a special of kohlrabi som tam, aka green papaya salad, the classic Laotian dish. Mixed with garlic, chili pepper, lemon and spices and drenched in fish sauce, the salad made with  kohlrabi was as good as the green papaya version, of which I could eat any amount.
kohl som tam
Som tam means something like "pounded sourness" in Laotian, a reference to both the flavor and the mortar and pestle that are traditionally used to make the sauce.
Four servings
1 softball-sized kohlrabi, peeled and grated or shredded (about five cups)
A large handful of cherry tomatoes, sliced into quarters
A fistful of string beans, chopped into inch-lengths
One medium carrot, grated
1 medium-sized clove of garlic, minced
2 tablespoons peanuts, dry roasted in a pan
1 or more tablespoons fish sauce
2 tablespoons lime juice
1 or more thin-skinned chilies, like a Thai or serrano, de-seeded and thin-sliced (optional)
½ teaspoon sugar
¼ teaspoon salt
In a mortar/pestle or blender, convert the garlic, salt, sugar and chili peppers into a paste. Add peanuts and crush some more. Transfer the paste to a bowl and add the lime juice and fish sauce. Stir together, and add the shredded carrot and kohlrabi. Lightly crush the tomato and string beans in the mortar and pestle, or with the side of a knife, and add them to the bowl. Toss.
The salt will pull moisture out of the kohlrabi, which can build up in the bowl. If that's an issue, drain it, or give it a toss right before serving. Sprinkle a few more crushed peanuts on top and serve. This dish is juicy, bright and refreshing, like som tam should be.
Kohlrabi Schnitzel
It's breaded and fried, which feels like cheating. But if you are getting people to chow down on kohlrabi, that's called "winning."
Four servings
2 softball-sized kohlrabi
½ cup flour
2 eggs, beaten
½ cup breadcrumbs
salt and pepper
vegetable oil
Peel the kohlrabi and cut into slices of approximately 3/8th inch. While you're preparing the kohlrabi bulbs, fill a saucepan with salted water and bring to a boil.
Cook the kohlrabi slices in the boiling water until slightly tender, about 7-8 minutes. Remove the slices, drain, and pat dry.
Bread the kohlrabi cutlets by coating each slice first in seasoned flour, then dipping in beaten egg, then dredging in breadcrumbs. The kohlrabi should be completely coated on all sides.
Heat the oil in a pan on medium and brown the cutlets until golden on both sides. Remove the kohlrabi schnitzels from the pan and drain to remove any excess oil.